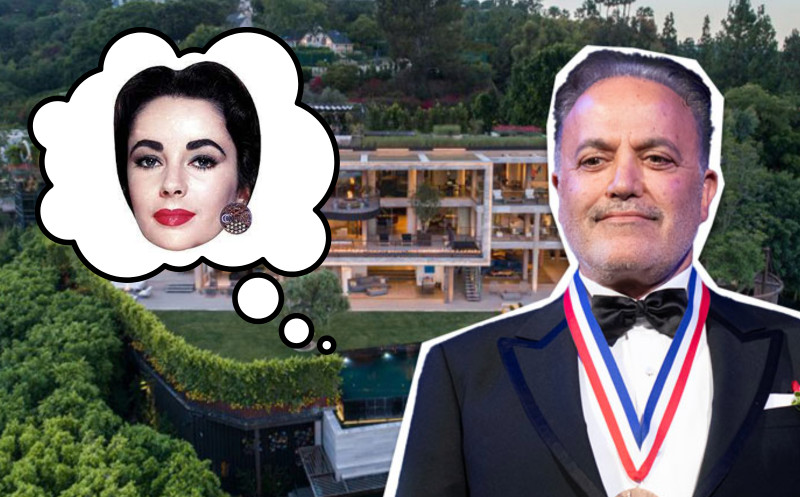 Elizabeth Taylor, a Hollywood "Golden Age" actress who played Cleopatra in the 60's, lived in a 1.27 acre Bel Air estate for the last 30 years of her life. The estate was described as "cozy" and "warm", an icon of mid century modern architecture nestled in the East Gate neighborhood of Bel Air.
It was recently bought for $11 million by legendary real estate developer Ardie Tavangarian in an off-market deal. Tavangarian is famous for his huge real estate projects, recently selling a custom estate for $75 million in Bel Air and another for $83 million in the Pacific Palisades. He also bought four Bel Air houses from Elon Musk for $62.5 million last year.
We can only speculate on Tavangarian's plans for Elizabeth Taylor's iconic home. He will likely use the 1.27 acres to expand her "modest" 7,000 square foot house into something worth selling for a price closer to his comfort zone: $50+ million. The house will be upgraded to fit in with the spectacular neighboring homes in Bel Air.
Fans of Elizabeth Taylor and preservationists will be upset to learn that the house will likely be torn down to build a new behemoth. People often buy a Hollywood legend's home to preserve it. Musk recently sold Gene Wilder's home back to his family while requiring that it be preserved in its original condition.
What are your thoughts? Should famous homes of Hollywood legends be preserved? Or does the underlying value of land prevail?